Why study Leadership and Management at the UvA?
Specialise in your field of interest
With our extensive specialisation courses and electives, you can tailor the programme to your interests and ambitions.
Excellent career prospects
Our Economics and Business Career Centre offers you plenty of support in exploring your options, developing soft skills and connecting to companies.
Business seminars in the Theatre
Prominent speakers from leading companies in a series of inspirational seminars such as Ahold Delhaize.
The Amsterdam Business School belongs to the 1% of Business Schools in the world to hold the prestigious Triple Crown accreditation.
Is Leadership and Management for you?
We will equip you with skills to excel as a leader and achieve success with your team. You will develop the capabilities needed to guide and understand employees and lead a team effectively. For example, increasing employee motivation and engagement, managing diverse people with different goals, creating a psychologically safe work environment.
Besides the focus on obtaining and applying knowledge, there are multiple opportunities for you to identify and develop your own leadership style.
The professors are international experts in the field and are very personal with the students. This personal focus creates an informal and non-judgemental atmosphere in which students can learn and develop.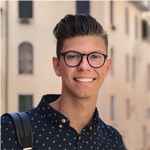 Hi, I'm Anton! I'm a Master's student in Business Administration from Russia. Got questions about studying at the UvA? Get in touch!
Chat with Anton
Compare our Master's programmes
Compare this programme with our other programmes in the comparison overview. Click on the ♥️ icon of the programmes you want to compare. Analyse the different programmes to find the one that aligns with your interests and aspirations.
Explore all MSc Business Administration tracks
Leadership and Management is one of the tracks you can opt for in our Master's in Business Administration. Take a look at the other tracks.