Why study Strategy at the UvA?
Specialise in your field of interest
With our extensive specialisation courses and electives, you can tailor the programme to your interests and ambitions.
Excellent career prospects
Our Economics and Business Career Centre offers you plenty of support in exploring your options, developing soft skills and connecting to companies.
Business seminars in the theatre
Prominent speakers from leading companies in a series of inspirational seminars such as Ahold Delhaize.
The Amsterdam Business School belongs to the 1% of Business Schools in the world to hold the prestigious Triple Crown accreditation.
Is Strategy for you?
You are interested in how businesses create value for their stakeholders.
The track offers you a challenge, but in the best way possible. Students that make it through the Strategy track emerge as more logical and critical thinkers. Employers value these capabilities – students that finish the strategy track end up in exciting corporate positions.
The strategy track balances practice and theory. By doing so, it gives you the knowledge needed to take on any career-related challenge that comes your way.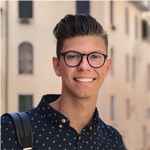 Hi, I'm Anton! I'm a Master's student in Business Administration from Russia. Got questions about studying at the UvA? Get in touch!
Chat with Anton
Compare our Master's programmes
Compare this programme with our other programmes in the comparison overview. Click on the ♥️ icon of the programmes you want to compare. Analyse the different programmes to find the one that aligns with your interests and aspirations.
Explore all MSc Business Administration tracks
Strategy is one of the tracks you can opt for in our Master's in Business Administration. Take a look at the other tracks.