The programme
During your Master's you will follow 6 general courses and 4 track-specific courses. You will finish with a thesis. If you have a drive to enhance the adoption of sustainability in finance, you can participate in our Honours programme.
What is the Master's Finance about?
Get career tips from our alumnus Lychelle
Real-life case: Algemene Pensioen Groep (APG) Asset Management
Algemene Pensioen Groep (APG) Asset Management is the largest institutional investor in the Netherlands and has around €459 billion in pension assets under management. These assets belong to 8 pension funds and are owned by 4.6 million people in the Netherlands. Is APG a giant facing diseconomies of scale or still harvesting cost-efficiencies? ABP is the largest client of APG. What if the interests of ABP differ from the interests of other clients? Who should design the strategic asset allocation of APG? Should APG manage the assets in an active or passive way?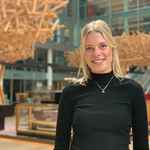 'The lecturers are very good and try to engage with the student in every way'
Vera Scholten - student
Read Vera's full review
Contemporary issues
You will discuss and learn how to analyse a wide range of recent financial market innovations. Professors continually update their courses to stay on top of the latest developments. Recent examples include:
Factor investing strategies like Smart Beta are increasingly popular among institutional investors. These funds select securities based on attributes like firm size and value that are statistically associated with higher returns. How can you implement factor investing? What are the most robust factors? What is the impact of factor investing on active asset management?
Pension funds, insurance firms and sovereign wealth funds are becoming increasingly active in the provision of capital to alternative asset classes, such as private equity, venture capital, real estate and infrastructure. What are the risk-return characteristics of these alternative assets? What are their investment costs? How much should funds optimally allocate to alternative assets?
Add extra value to your studies