What does this Master bring to your career?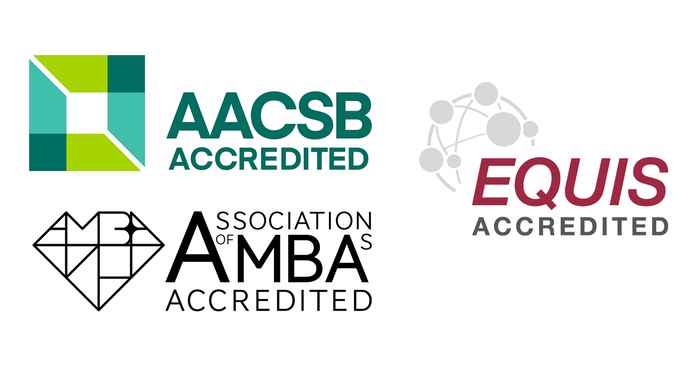 Internationally recognised MSc title
Earning your MSc degree at Amsterdam Business School means that you studied at one of the best business schools in the world. We belong to the 1% of business schools worldwide to be Triple Crown accredited. Additionally, we are part of the University of Amsterdam. One of the few Dutch universities ranked in the global top 100 of QS Rankings and the Times Higher Education World University Ranking.
Your own view on Business Administration
Professors and lecturers at the forefront of business administration research will invite you to discuss and form your own view. Focusing on a wide variety of operational as well as strategic issues that companies face today and in the future.
Expansion of your network
Meet and work together with motivated fellow students from various backgrounds, working in different industries. Interact with our dedicated academic lecturers and industry experts. On top of that, you get access to our alumni network and be invited to special alumni events.
76% of our students indicated that they significantly expanded their business network already during the programme.*
Improved position and salary
During the Executive Programme in Management Studies, you will definitely improve your business management knowledge and skills. Together with your MSc title, this expertise will open up opportunities to improve your current position and salary.
28% of our alumni improved their position and/or salary during the programme;*
65% of our alumni improved their position and/or salary within three years after graduation.*
* Amsterdam Business School survey among Executive Programme in Management Studies alumni.
I have learned to assess situations from multiple viewpoints. This results in a transferable skill-set that has great value in any company.
Paul de Lange, TMF Group
Read Paul's testimonial
Where do our alumni work?
Product Owner SimaPro Platform at PRé Sustainability
Chief Storytelling Officer at Storylines
Global Service Delivery Lead, Fund Services at TMF Group
Financial & Commercial Manager at Liberty Global
International Marketing Manager at EVBox
Senior Consultant at Deloitte
Department Head at the Municipality of Amsterdam
Team Lead Customer Success at Zoom
Team Manager and Business Change Manager at Netherlands Police
Agile coach Randstad Groep Nederland
What arguments will convince my employer of this Master's?
You will combine work and study, so you will bring acquired knowledge directly into your organisation.
Your assignments and thesis will be about issues that play a role within your organisation. This gives your employer the opportunity to use this knowledge in order to solve strategic and operational business challenges.
You will expand your network with students and alumni from the programme and Amsterdam Business School.
You will study at an internationally renowned business school, part of the University of Amsterdam.
Career Services Economics and Business
Our Career Services offer you career advice, up to a year after graduation. You can meet with a career coach, submit your CV for review and take part in networking or job application training workshops.