Frequently Asked Questions - Admissions
To help you quickly, we set up a list of frequently asked questions that (new) students have during their admissions process. Please refer to this information first as the response we will send to you via email will be very similar.
Eligibility to the programme

We do not offer any kind of pre-screening services and therefore we cannot provide you with a definitive decision on whether you will be admitted or not. We do not make statements about your eligibility by phone or email. We can only come to an informed decision about your eligibility by reviewing your complete Embark application.

Your eligibility to the programme of your choice is solely based on academic credentials. We do not take work experience into consideration.

Application status

Our aim is to review your Embark application within 3-4 weeks. However, the review time will increase close to application deadlines or when your documents need an extra review.

If any documents are missing from your application, you will be informed by email. In order to avoid missing important information, make sure to check your spam folder for emails sent from @embark.com and @uva.nl.

Scholarships

We provide a limited number of scholarships for highly talented non-EU students applying to one of our Bachelor's and Master's programmes. Each year, the scholarship application deadline is on 15 January for students applying for the next academic year. Applications handed in after the scholarship deadline will not be taken into consideration.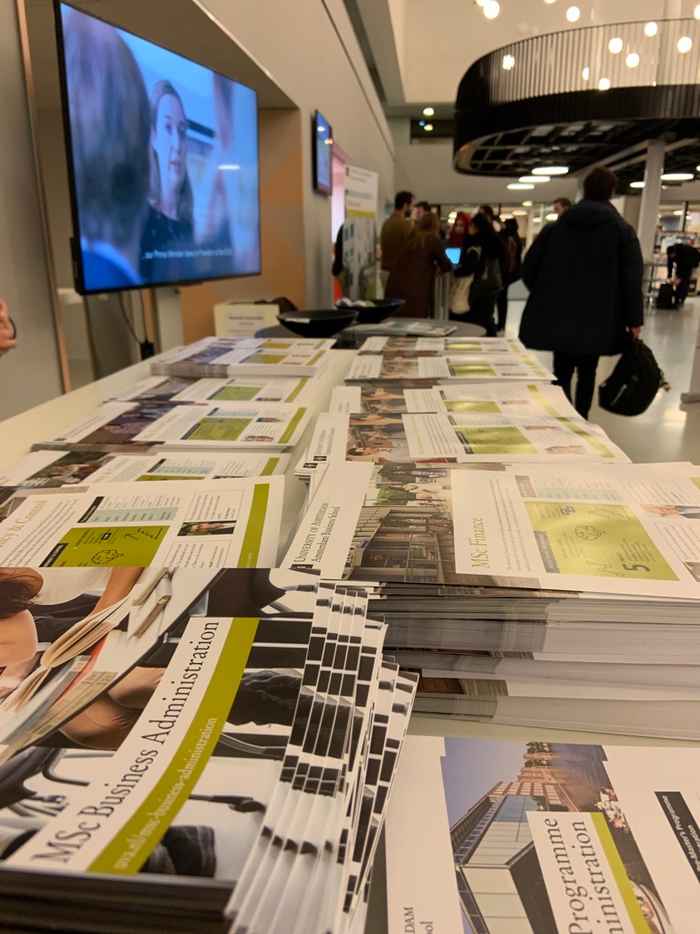 Stay informed on your programme of interest
Please fill out your details to receive our mailings about:
online versions of our brochures per track;
admissions procedure and deadlines;
scholarships and tuition fees;
how to meet us in person by skype chat/webinars/education fairs;
and more.
Roeterseiland Campus University of Amsterdam - Campus tour
Explore Roeterseiland Campus
All Economics and Business programmes at the University of Amsterdam are part of the of the Amsterdam Roeterseiland Campus, an inspiring, international knowledge hub for Economics, Business, Law, Social and Behavioural Sciences.
Addresses
We are located on the Roeterseiland Campus, in Amsterdam.
Mail Addresses

General mail address (not for registered mail)
University of Amsterdam
Economics and Business
ESC/Admissions Office
P.O. Box 15961
1001 NL Amsterdam
The Netherlands

Registered mail address (DHL/UPS/FedEx etc.)
University of Amsterdam
Economics and Business
ESC/Admissions Office attn. N. Kalsbeek
Valckenierstraat 59
1018 XE Amsterdam
The Netherlands
Were you unable to find the answer to your question about application and admission? Please do not hesitate to contact us. We are experiencing a very high volume of incoming questions, which results in long response times (approximately 7 workdays).
Contact form

You can fill out our contact form if you were unable to find an answer to your question about application and admission on our website. Please use one contact form to ask one question.

Did you already start an application for one of the programmes offered at UvA's Economics and Business and do you have an admissions related question? Make sure to have your UvAnetID (student number) ready and use this question form.

Do you have an admissions related question, but haven't started an application for one of the programmes offered at UvA's Economics and Business yet? Make sure to use this form.
Call us

Due to a higher volume of calls, waiting times may longer than usual. We grately appreciate your patience.

On weekdays from 14:00 - 15:30 (CET).

Phone number: +31 (0)20 525 4327

Please note that during the office hours, we cannot make definite statements about your eligibility to the programme. Such statements can only be made on the basis of a complete and timely application submitted through Studielink and our online application system Embark, all of which are reviewed with the utmost care.

Visiting hours

We are currently not holding visiting hours.
The Admissions Office is closed on these national holidays:
Friday 7 April - Good Friday
Monday 10 April - Easter Monday
Thursday 27 April - King's Day
Friday 28 April - Collective day off
Friday 5 May - Liberation Day
Thursday 18 May - Ascension Day
Friday 19 May - Collective day off
Monday 29 May - Whit Monday
Monday 25 December 2023 to Monday 1 January 2024 - Christmas recess