Why study Control at the UvA?
Specialise in your field of interest
Choose from 2 specialisation tracks and challenging electives.
Excellent career prospects
You will have an excellent job prospect at wide variety of commercial and non-profit organisations, such as the Financial Markets Authority and the Dutch Central Bank.
We offer a pre-Master's, a Master's and a post-Master's programme in the field of Accountancy and Control.
The Amsterdam Business School belongs to the 1% of Business Schools in the world to hold the prestigious Triple Crown accreditation.
Is Control for you?
Specialising in Controlling hones your skills in designing and implementing effective management control systems. You'll learn to create frameworks that align organisational objectives, monitor performance, and ensure accountability across various business functions.
You will learn analysing- and problem-solving skills to interpret financial figures. You will also gain a broad insight in the organisation's processes, a 'feel for the business' and a commercial mind.
You aspire a career as Register Controller (RC). After obtaining your MSc degree, you can continue your studies at the Amsterdam Business School, to become a certified RC.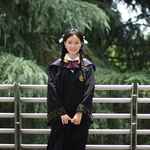 Hi, I'm Elvira! I'm a Master's student in Accountancy and Control from China. Got questions about studying at the UvA? Get in touch!
Chat with Elvira
Compare our Master's programmes
Compare this programme with our other programmes in the comparison overview. Click on the ♥️ icon of the programmes you want to compare. Analyse the different programmes to find the one that aligns with your interests and aspirations.
Explore all MSc Accountancy and Control tracks
Control is one of the tracks you can opt for in our Master's in Accountancy and Control.