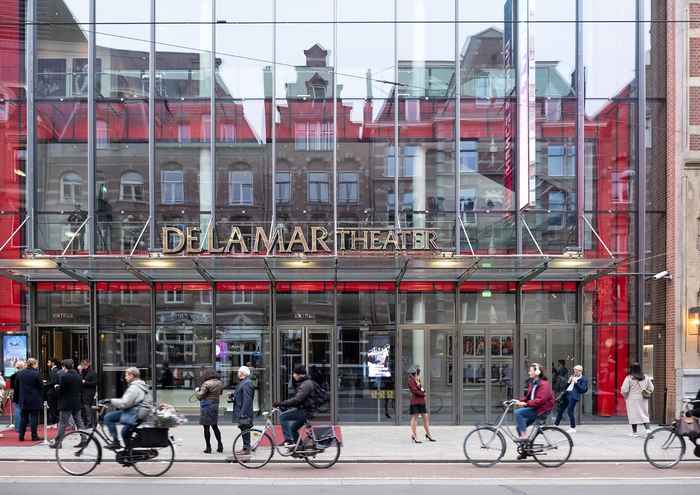 Programme 2022 autumn edition
3 sessions were scheduled in the DeLaMar Theatre: 23 September, 30 September, and 14 October.
Session 1, 23 September, 13:00 - 15:00: The future of work
Sven Smit (McKinsey) and David Graus (Randstad)

In this first session of the business seminar we focused on the future of work from 2 highly relevant perspectives.

The first speaker (13:00-14:00) Sven Smit has an impressive track record in strategy consulting for major corporations. ​Sven is a senior partner at McKinsey & Company, and chairman of the McKinsey Global Institute (MGI), McKinsey's business and economics research arm. He is a member of McKinsey's Shareholders Council as well as McKinsey's executive committee, known as the Acceleration Team, overseeing insights and ecosystems. He will share his vision on how current urgent global issues will have an impact on work.

The second speaker (14:00-15:00) David Graus was lead data scientist at Randstad Groep Nederland, the global leader in the HR services industry. At Randstad he works with his chapter of data scientists on AI-powered products and services, including algorithmic matching of jobs to job seekers and natural language processing for labor market analysis. Prior to his role at Randstad he worked on news personalisation for Het Financieele Dagblad, and the award-winning SMART Radio for BNR Nieuwsradio. David obtained his PhD in Information Retrieval in 2017 at the University of Amsterdam under supervision of Prof. Maarten de Rijke, where he worked on semantic search and computational methods for automated understanding of large-scale textual digital traces.
Session 2, 30 September, 13:00 -15:00: Green growth
Robbert de Vreede (Unilever) and Barbara Baarsma (Rabobank)

In this session, both speakers offered their perspectives on the topic of green growth.

Robbert de Vreede is Chief Marketing & Business Development Officer Nutrition at Unilever. Robbert has 22 years of experience working in various marketing and sales roles across a number of markets across the world. Currently Robbert is the Chief Marketing & Business Development Officer for Unilever's Global Nutrition business. This is home to famous global brands such as Knorr, Hellmann's & The Vegetarian Butcher, as well as strong regional and local brands such as Horlicks, Bango, Lady's Choice, Marmite and many more. The Nutrition Business Group contributes €12Bn turnover to Unilever annually.

Robbert started his career as a management trainee in Unilever's Home & Personal Care business. Here he enjoyed the tough global competitive landscape, learned the business models of price per wash, the role technology can bring to deliver competitive products and discovered the power of global innovation and bold campaigns to drive market development. It was when Robbert arrived in Nigeria to take responsibility for the total Unilever portfolio in that market that he was immersed in the dynamics of the Foods business. And he loved it. When later taking on the responsibility for the Unilever Foods business in the Benelux he brought the Unox brand into the vegetarian segment, got Knorr to help Dutch people to eat more vegetables and acquired The Vegetarian Butcher for Unilever.

Authentic brands drive change

Robbert holds a strong passion for brands and even more so for brands that offer a point of view, drive positive change and dare to stand for something. Brands that are authentic become unmissable. This enables them to offer a platform for growth and positive change.

Robbert is a strong believer that purpose can be business and that good business helps to bring scale to purpose. He is proud of the Future Food Commitments Unilever made in 2020, and is motivated to deliver on those with the Nutrition brands across the Globe; making healthier products for people and planet and deliver good business for Unilever.

Robbert enjoys food in his social life as well; he likes to cook for family and friends and loves how food brings people together. In the weekend Robbert can also be found on his bike to keep a healthy balance between calories and exercise.

Robbert studied Economics at the Erasmus University and earlier served on the supervisory board of the Dutch packaging waste fund which focused on making business sense out of the collection and recycling of packaging. Robbert is married, has two daughters (17 & 16) and a 12-year-old son.

Barbara Baarsma is CEO of Rabo Carbon Bank at Rabobank. Before March 2021, she was CEO of Rabobank Amsterdam, taking up the post on 1 January 2019. From 2016 to 2019 she was the Director of Knowledge Development at Rabobank where she headed RaboResearch. In this capacity she was responsible for the Rabobank-wide knowledge agenda and the development of the knowledge organization.

Alongside her work at Rabobank, Barbara Baarsma is Professor of Applied Economics at the University of Amsterdam. She is regularly asked to contribute her ideas in committees on ministerial policy issues. For example, she was chair of the Macro Management Tool Committee in specialist medical care set up by Minister Schippers, and was previously chair of the committee for Vertical Integration in the healthcare sector set up by Minister Klink. She was also a member of the Visitation Committee for National Public Broadcasting Services (LPO), the Committee on the Structure of Dutch Banks (Commissie Structuur Nederlandse banken), the Committee Service Provision at Home (Commissie Dienstverlening aan huis), the Level Playing Fields for Industry Committee (Commissie Speelveldtoets) and the Circular Agriculture Earning Capacity Taskforce (Taskforce Verdienvermogen Kringlooplandbouw).
Session 3, 14 October, 13:00 -15:00: China in Business
Frans-Paul van der Putten (Founder of ChinaGeopolitics); Yishi Huang (Founder and CEO van Biu Tea), and Florian Otto (Director of Communications at NIO)

In this lecture presented different perspectives on the theme "China in Business". The first speaker, Frans Paul van der Putten is an expert in the role of China in geopolitics and on how this has an impact on the corporate strategies of corporations in the EU and China. Along with this global, corporate perspective we will also present a local entrepreneurial perspective. The second speaker, Yishi Huang is the CEO and founder of Biu Tea, a start-up bringing bubble tea and more to Amsterdam. The third speaker is Florian Otto, director of communications at the Chinese automotive company Nio.

Frans-Paul van der Putten isthe founder of ChinaGeopolitics. He studied history at Leiden University, where he obtained his PhD in 2001 on research into the China strategies of Dutch companies in the first half of the twentieth century. He worked for five years as a researcher at Nyenrode Business University and is a former editor-in-chief of Itinerario: Journal of Imperial and Global Interactions. Frans-Paul has been affiliated with the Clingendael Institute since 2007, where he co-founded the China Center in 2019 and where he now is a Senior Research Associate.

Yishi Huang is an international business consultant specialised in the field of cross cultural communication and international business development. Yishi's specialties are market entry strategy, establishing channel and partnership, branding, sales & project management. She has a good understanding of the business cultures in China and Europe. With her open personality she is a pleasant business partner for companies who want to enter the Chinese and Dutch market in a clear and no-nonsense way.

In 2015 she co-founded Silk Tree consulting in Amsterdam helping Dutch fashion companies to have scalable entry into China. In the meantime she also leads Silk Tree to support established Chinese corporations to expand their business territories in Europe. As a most recent project showcasing her entrepreneurs spirit, creativity and business development capacities, in 2020 she established one of the first social fusion tea concept brand in the Netherlands "Biu!Tea". Since then Biu!Tea grew dynamically during the challenging coronavirus pandemic period from one store to multiple locations in 2 years. She holds a master's degree in International communications management.

Florian Otto is the director of communications at the Chinese automotive company NIO. Before that He worked as the Head of Communications at Mercedes and Audi, and was a journalist in the automotive field.
About UvA in DeLaMar
'UvA in DeLaMar' is organised by the Amsterdam Business School and hosted by the DeLaMar Theatre. Alumni, employees and relations of the Amsterdam Business School and students of the MSc Business Administration programme and the Executive Programme in Management Studies are invited to attend. Anyone outside of the abovementioned groups who would like to attend can send an email to the UvA in DeLaMar organisers.