Important facts and dates
| | |
| --- | --- |
| • Tuition: €33,500 | • Mode: full-time |
| • Duration: 12 months | • Language: English |
| • Next start date: 1 September 2024 | • Degree: MSc |
| • Lectures: Weekdays (3 - 4 classes per week) | • Location: Roeterseiland campus |
*Rather study part-time? Check out our 2-year programme.
Why choose the Executive MSc in International Finance (MIF)?
We belong to the 1% of business schools worldwide that are Triple Crown accredited.
A stimulating international environment
Team up with fellow students from more than 20 countries in small classes to widen your perspective and have a great learning experience.
Interact with reputable academics and experts from the financial industry to stay up-to-date with topics like asset management, fintech, blockchain and behavioural finance.
Network-oriented programme
Our MIF Leadership Programme, extensive alumni and industry network and our dedicated Careers Centre will help you to accelerate your financial career.
For whom?
The MIF General track is tailored for ambitious professionals who want to operate in a global financial environment. The MIF Finance and Technology track is designed for those with an affinity for IT and innovation who are eager to use technology to their advantage in relation to finance.
Am I eligible?
Upload your LinkedIn profile or CV and we will check if you are eligible to this Master's programme. We will respond within 3 business days.
What will you learn?
The newest developments in the finance industry.
Insight into key areas of finance based on the latest research.
Leadership and management skills to become a transformative leader.
International awareness and enhanced soft skills by working in diverse teams.
The practices of machine learning and benefits of big data and how to use them in finance.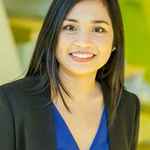 The quality of the courses, the professors, class, seminars and career-related activities, all contributed to making the Master's programme a very valuable experience.
Jaemi Samonte, Credit Analyst/Business Manager at ING
Read Jaemi's testimonial
Choose between 2 tracks
In this Master's programme, you choose 1 of 2 tracks. Choose the track that fits your career ambitions best.
General track

Dive into finance from the perspective of banking, asset pricing and quantitative finance and corporate finance.

Finance and Technology track

Get a greater understanding of technology's role in the financial sector. By the end of your Master's you are able to assess and manage financial risks, using all available data and tools.
Class profile
Your fellow students play a key part in your learning experience. For 12 months, you will follow the same path, share your views, questions, insights, experiences and create lifelong relations. You will meet an international mix of full-time students and working part-timers. All with different cultural and professional backgrounds and academic skills.
Reviews from our students
Abed's review of our Executive MSc in International Finance (MIF).
Tino's review of our Executive MSc in International Finance (MIF).