Testimonials
Our students and alumni work in various functions and organisations. How did they experience the Executive MSc Programme in Management? What did the programme do for their career?
'I learned to use a strategic point of view when making decisions'
Reinier Zwiep, Product Owner SimaPro Platform at PRé Sustainability. Track: Strategy. 'Prior to the programme, my decision-making was mainly based on intuition. The EPMS programme helped me to put information in a better context when making professional decisions.'
'The programme started a new path for me'
Fiona Passantino, Chief Storytelling Officer at Storylines. Track: Leadership & Management. 'Learning to understand the language of business allowed me to know what was going on and to have a seat at the table. Every time you learn something at the business school, the following Monday you could use that in a meeting.'
'I have learned to analyse the strategic impact of a project on the organisation'
Arshia Ghasempour, Senior Consultant at Deloitte. Track: Strategy. 'The EPMS programme taught me how to analyse problems and organisational decision-making more effectively. This way of thinking complemented my existing skillset and will undoubtedly help me becoming an effective manager in the future.'
'I loved the combination of theory and practice'
Daphne Steegh, Department Head at the Municipality of Amsterdam. Track: Leadership & Management. 'Completing the EPMS programme definitely influenced new insights in how I want to organise my career, so that I can continue to combine strategic management with ongoing research on leadership.'
'I liked the professors a lot, they are true experts in their field'
Dana Maelzer, Team Lead Customer Success at Zoom. Track: Leadership & Management. 'I enjoyed the real-life examples that the professors used, not just textbook examples. The Master's programme gave me a lot and I am at the highest level of employment that I have ever been.'
'One of the strengths of the EPMS programme for me is the encouragement of critical thinking'
Grace Chen, International Marketing Manager at EVBox. Track: Leadership & Management. 'While the content of the core courses was largely theoretical, in a number of assignments we had the opportunity to conduct case studies and write proposals for challenges faced by real companies.'
'Following the EPMS programme creates a way of thinking that you can apply to any situation in practice'
Paul de Lange, Global Service Delivery Lead, Fund Services at TMF Group. Track: Strategy. 'I have learned to assess situations from multiple viewpoints. This results in a transferable skill-set that has great value in any company.'
'There are always various paradoxes that you have to deal with as a leader'
Vincent Bodifee, Team Manager and Business Change Manager at Netherlands Police. Track: Strategy. 'I was able to directly apply new knowledge that the programme provided into practice. Themes such as ambidexterity and training the ability to be adaptive, receive a lot of attention in the programme. These themes are very important in an increasingly rapidly changing society.'
Class profile
To optimise your learning experience, we prefer to keep our classes small and personal. At the same time, we arrange for students from different backgrounds to team up, making sure that your learning curve is steep and interactions with fellow students are interesting as well as fun.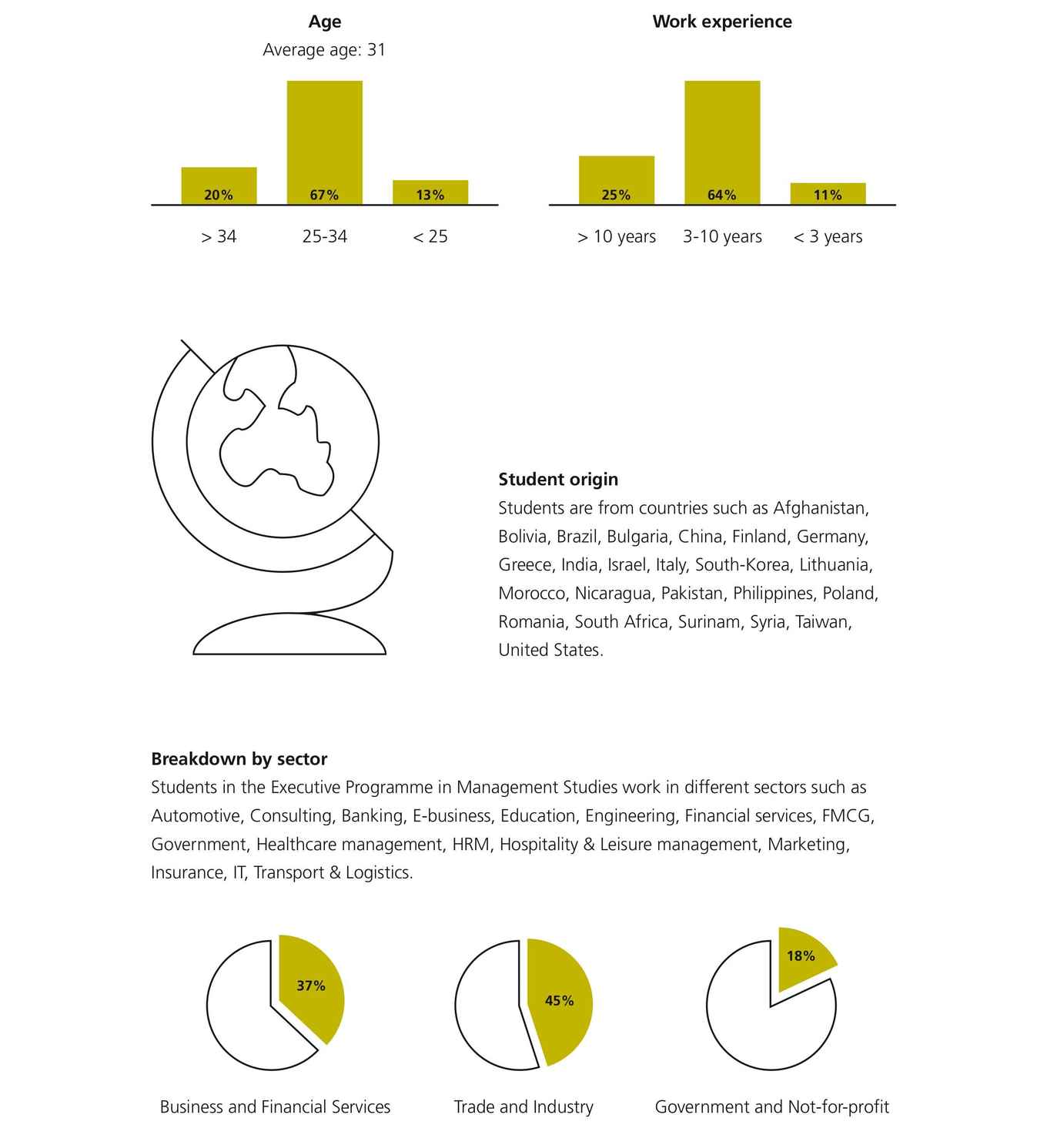 'Lecturers are passionate about their profession'
Evelien Krooshof, Agile coach Randstad Groep Nederland. Track: Leadership & Management. 'The most energy I got from lecturers and my fellow students. Some teachers were so passionate about their profession, it gave me a boost for the weekend. The classes on leadership and business ethics for example I thought were very interesting. My fellow students were really motivated and gave interesting input and insights about their companies. All this inspired me to really challenge myself.'